Ernst Schoen Files
For a number of years Esther Leslie and Sam Dolbear have been working to explore the life and work of the anti-fascist radio producer, composer and writer Ernst Schoen (1894-1960). A number of projects have resulted:
RADIO 32/19:
In December 2019, we staged a live broadcast of a radio broadcast at the Bishopsgate Institute, imagined and projected from 1932, with song, commentary, dream music, games, the performance of a radio play and acetate projections. A version of this script will be available at some point in printed form.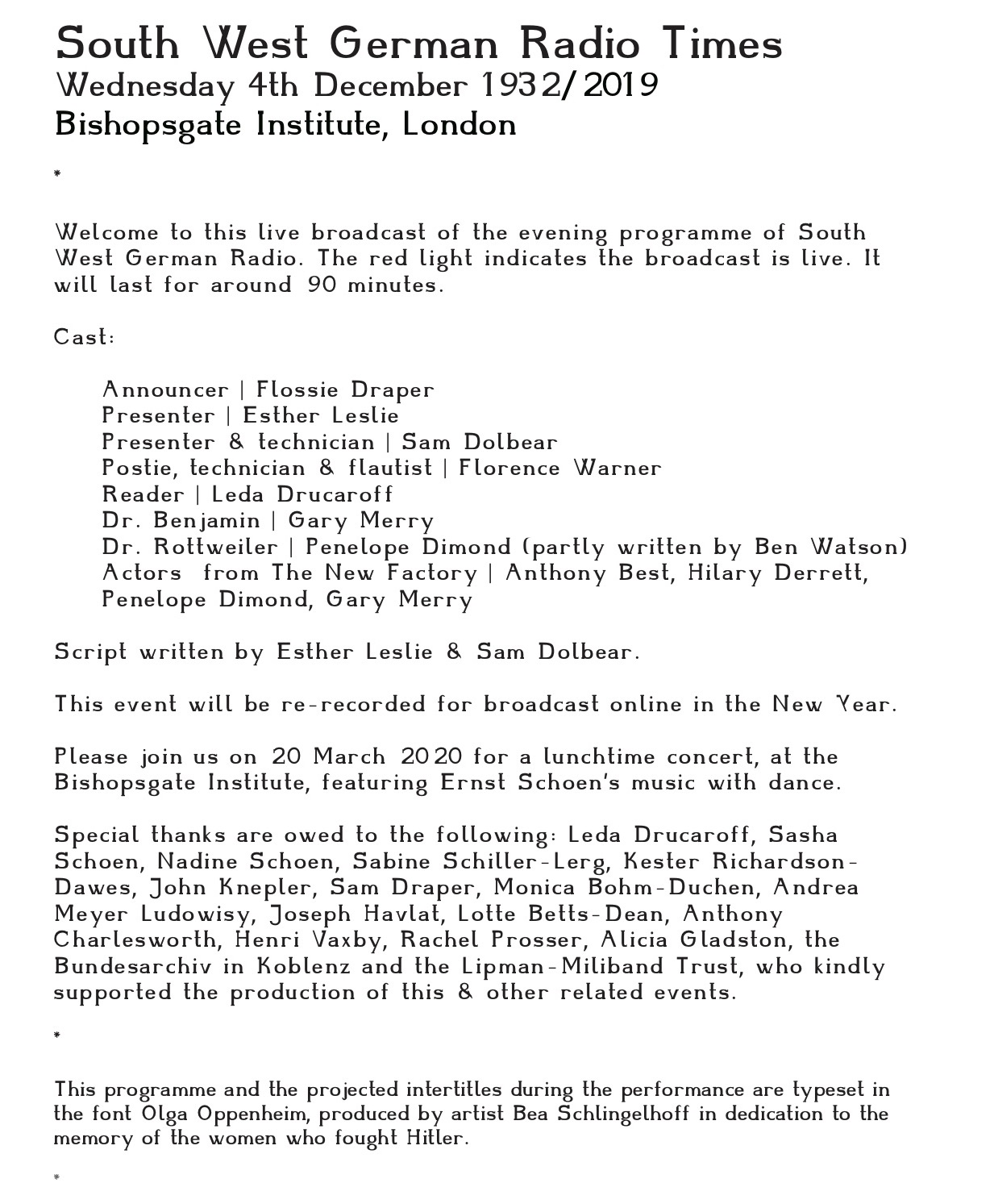 This came out of a small concert at Craxton Studios in London in May 2019, that showcased Ernst Schoen's songs 'Six Poems by Fritz Heinle', sang by Lotte Betts-Dean, accompanied by Joseph Havlat. In the programme for this event, we also published, for the first time in English, translations of Heinle's poems, by Sasha Schoen, Ernst Schoen's son. You can hear Leda Drucaroff read Sasha's translations of them here. These are also available in an extended form in the publication We Do Not Believe in The Good Faith of The Victors, edited by Tom Allen, for which we performed at the launch.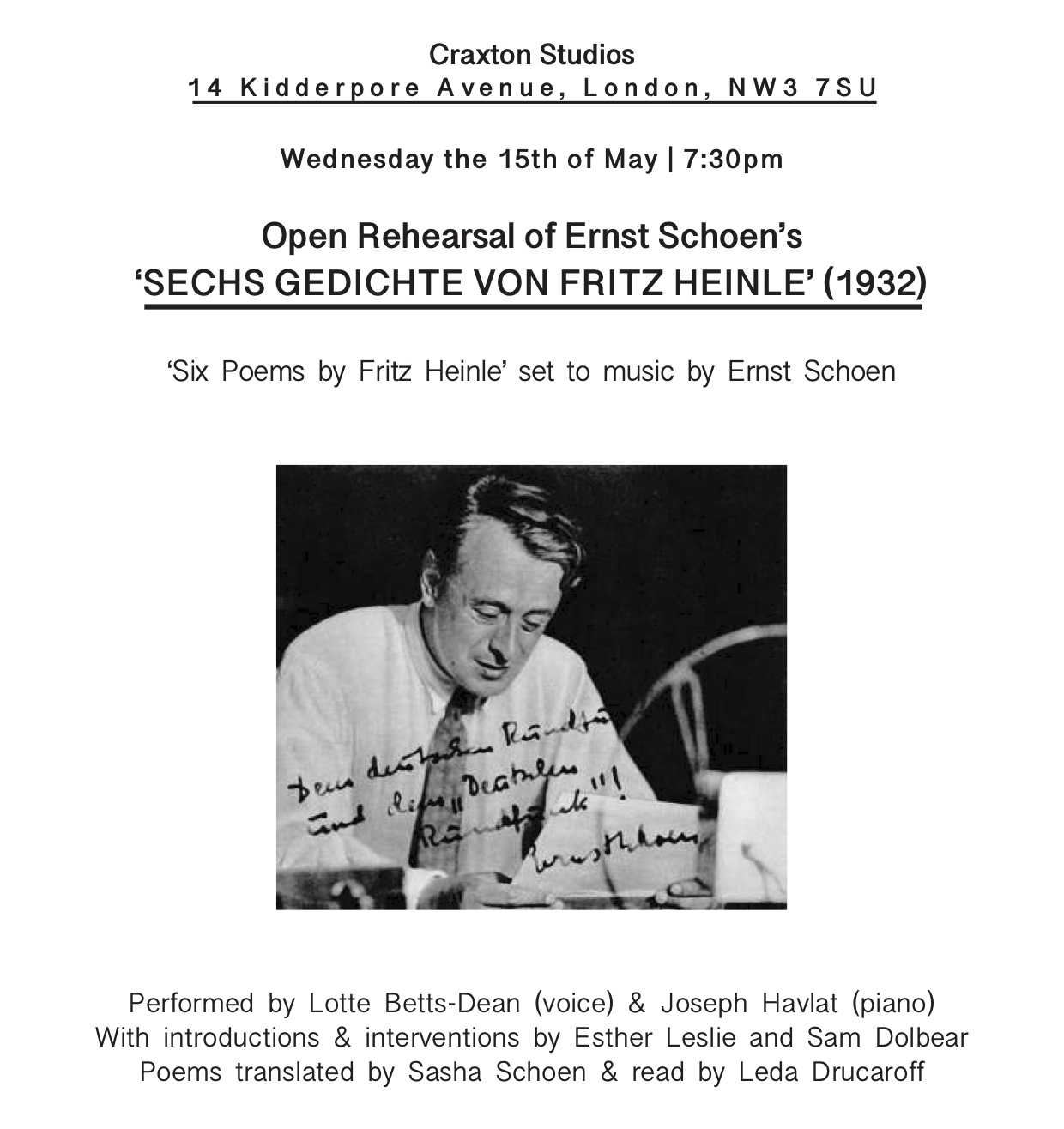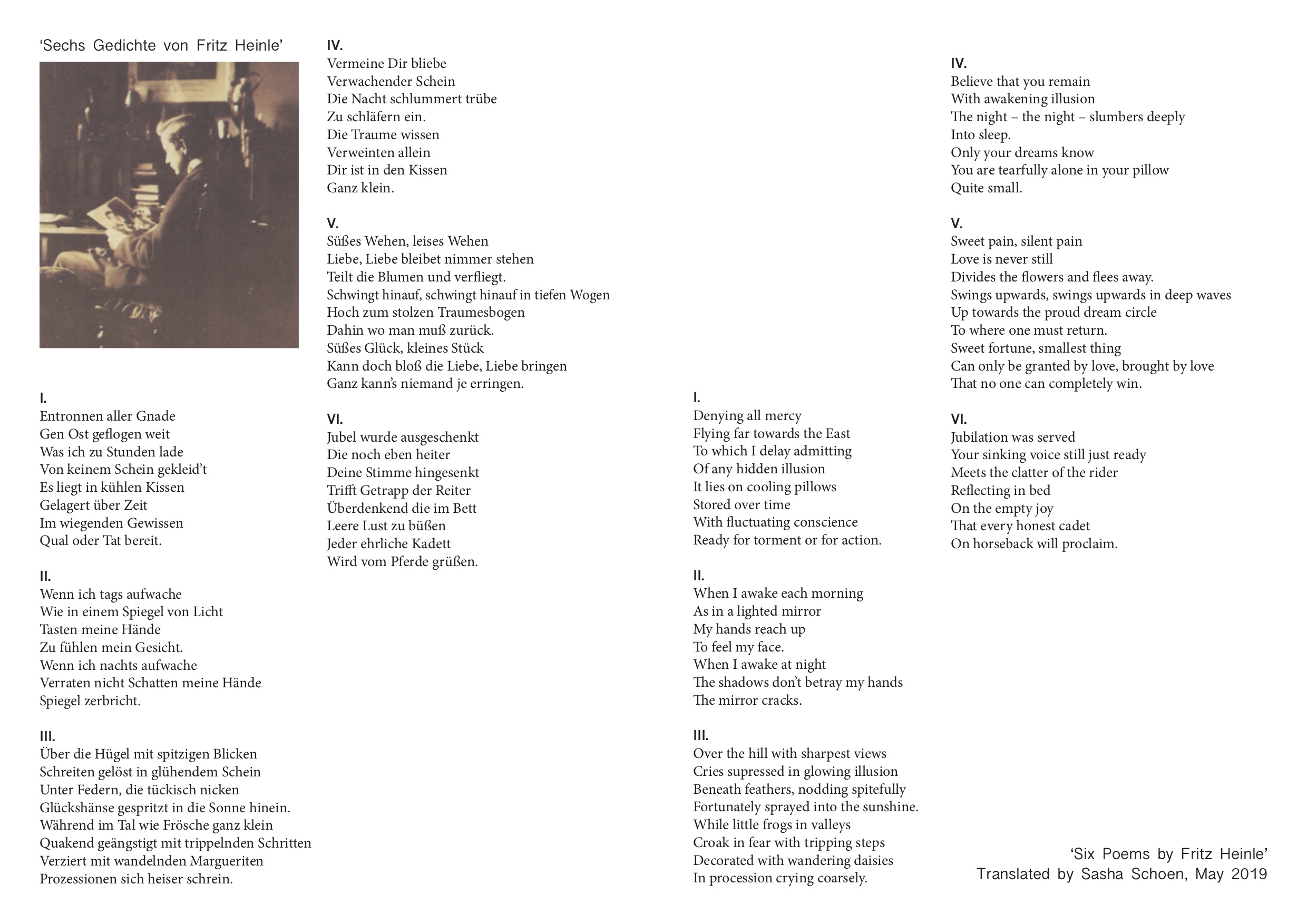 SONG 27/32:
On October 9 2020, Lotte Betts-Dean and Joseph Havlat performed some of Ernst Schoen's music at the Bishopsgate Institute, alongside political and art songs from the time. The programme is as follows:
Paul Hindemith, From 9 English Songs (1942-44)
– No. 2: Echo
– No. 7: Sing on there in the Swap
Edgard Varèse, Un grand sommeil noir (1906)
Ernst Schoen, Sechs Gedichte von Fritz Heinle (1932)
– No. 1: Denying all mercy
– No. 2: When I awake each morning
– No. 3: Over the hill
– No. 4: Believe that you remain
– No. 5: Sweet pain, silent pain
– No. 6: Jubilation was served
Lord Berners (Sir Gerald Hugh Tyrwhitt-Wilson), 3 petites marches funèbres, 1916
– No 2: pour un canari
Karol Szymanowski, Children's Rhymes Op. 49 (1922-23)
– Przed zaśnieciem (Before bedtime)
Ernst Schoen, Sechs Lieder für Kinder für Singstimme und Klavier (1927)
– No. 1: Introduction
– No. 2: Dialogue
– No. 3: "C'est la Nature!"
– No. 4: Mishaps rarely come alone
– No. 5: Tenderness
– No. 6: A, b, c
Gian Francesco Malipiero, from Omaggi (1920)
– a un pappagallo
Alfredo Casella, 11 pezzi infantili, op.35 (1920)
– No 10: Berceuse
Lord Berners (Sir Gerald Hugh Tyrwhitt-Wilson), 3 petites marches funèbres (1916)
– No 1: pour un homme d'état
Ernst Schoen
– Das Anti-Hitler-Lied (1941)
– Das Heimkehrlied (N/K)
Mischa Spoliansky,
– Das Lila Lied (1920)
Arnold Schoenberg, Brettl-Lieder (1901)
– Galathea
Encore
Ernst Schoen, Sechs Lieder für Kinder für Singstimme und Klavier
– No. 7: Nature and Custom
– No. 8: Psalm for Cleanliness
TANZ 23/24:
In October 2020, we staged the world premiere of Tanz 23/24 at Curie City and Chopin University of Music in Warsaw. The project was inspired by the discovery of a flyer in Schoen's archive, in which the dancer 'Henri' performed to his music in 1923 and/or 1924.
The historical background to the project is outlined here in a recorded and subtitled lecture:


The premiere in Warsaw would not have been possible without the help and support of Joanna Klass and everyone at Curie City. Henri was brought to life, animated and choreographed by Alka Nauman and Lucie Palazot, in costumes made by Alicia Gladston. The music was selected and performed by Samuel Draper, from a list on the reverse of the flyer.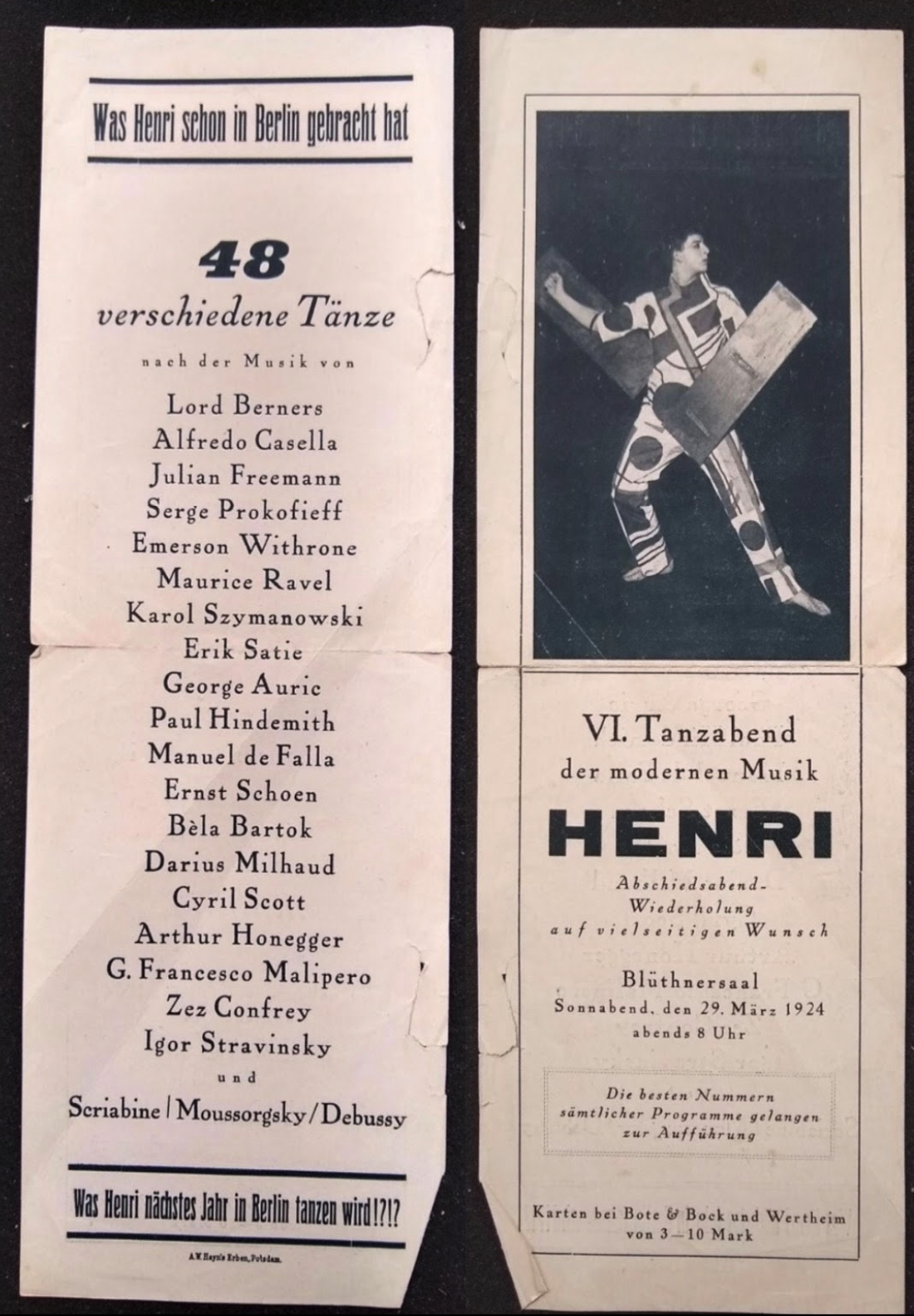 Due to the pandemic, rehearsals largely took place virtually, with particular attention devoted to the work of gesture:


The flyers and posters, designed by Ola Jasionowska: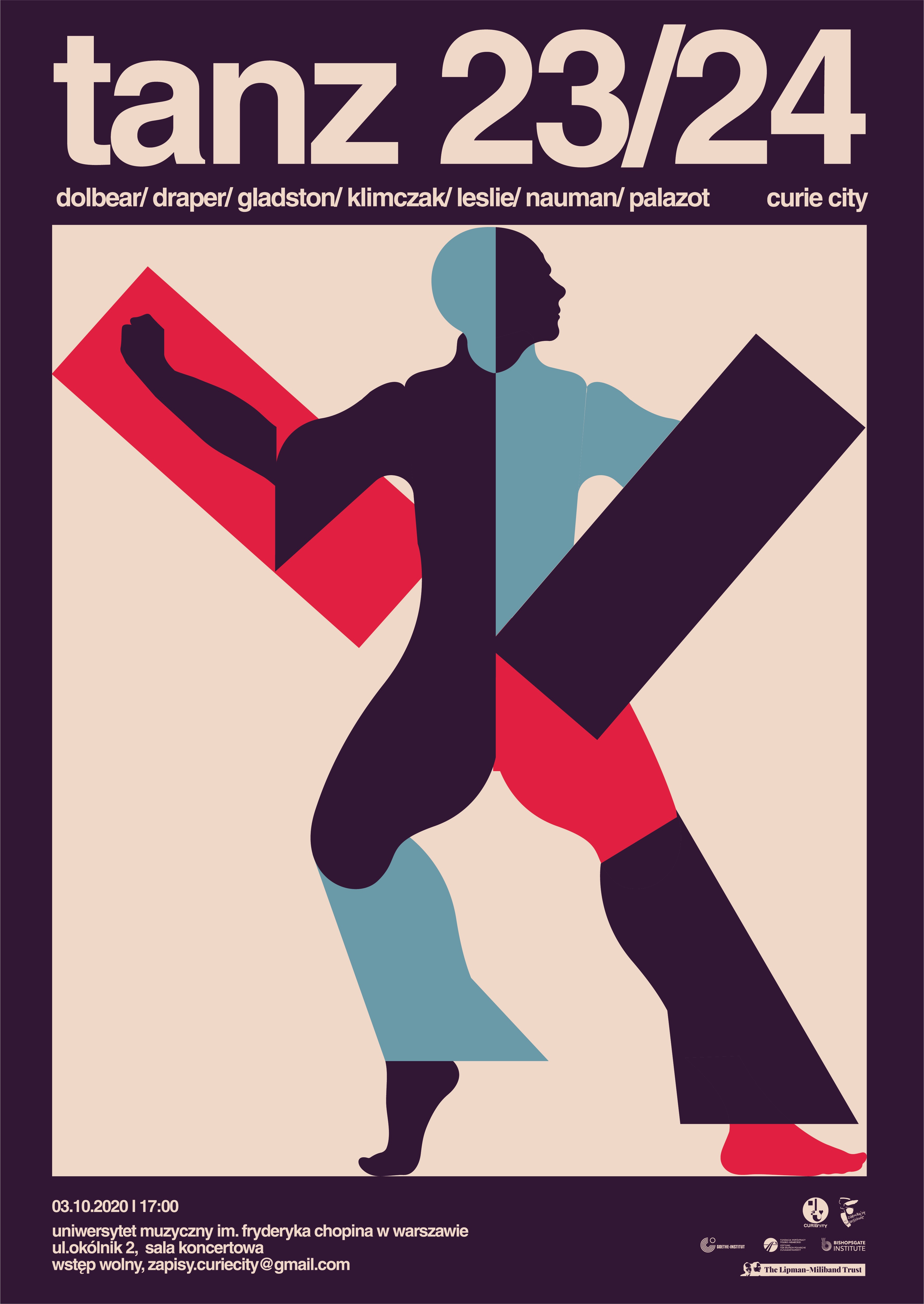 Below are a selection of photographs from the supporting exhibition at Curie City as part of the cycle on '(de)regenerated' art, and the accompanying performance can be watched here, as well as photographs taken during the performance: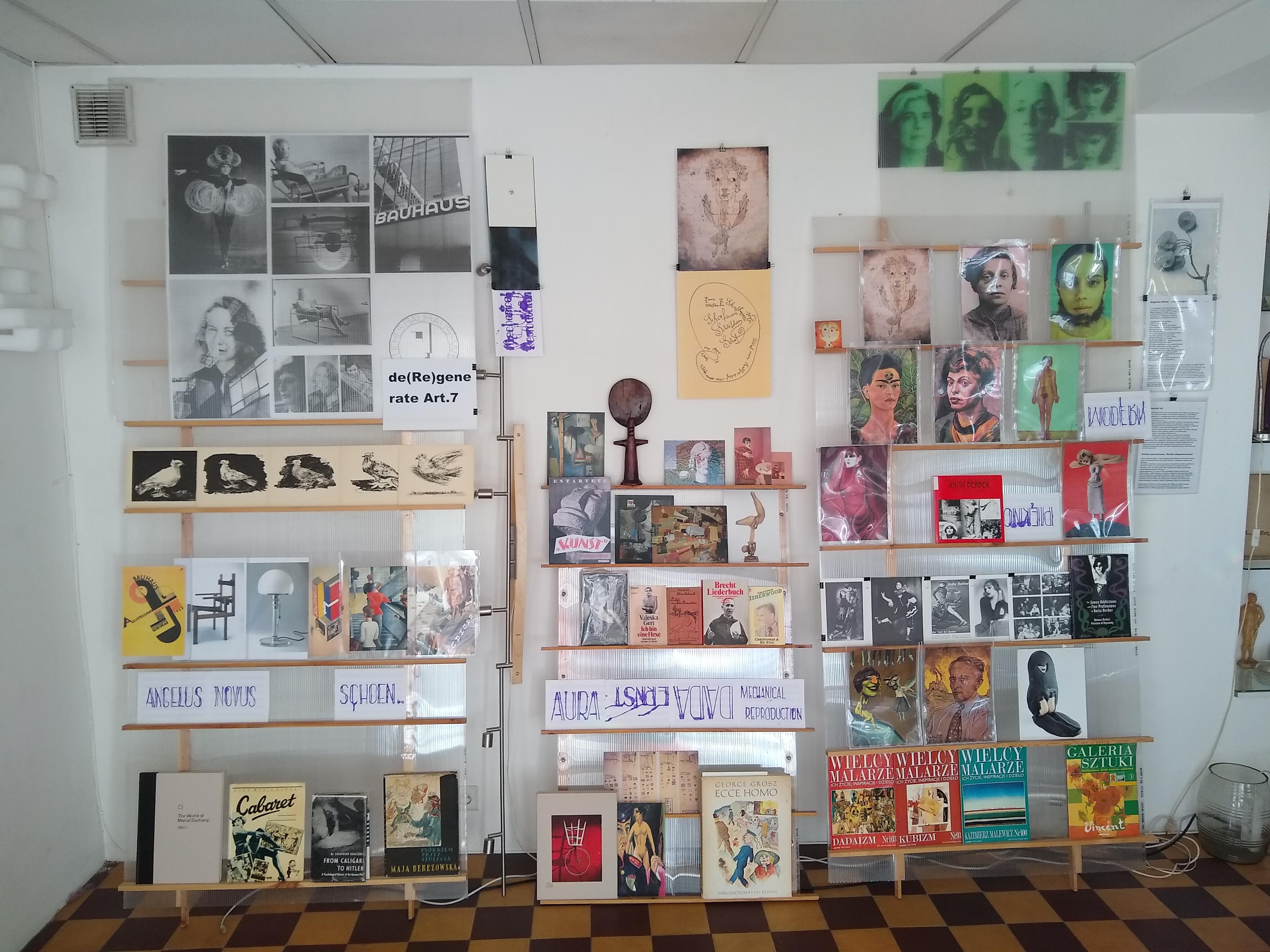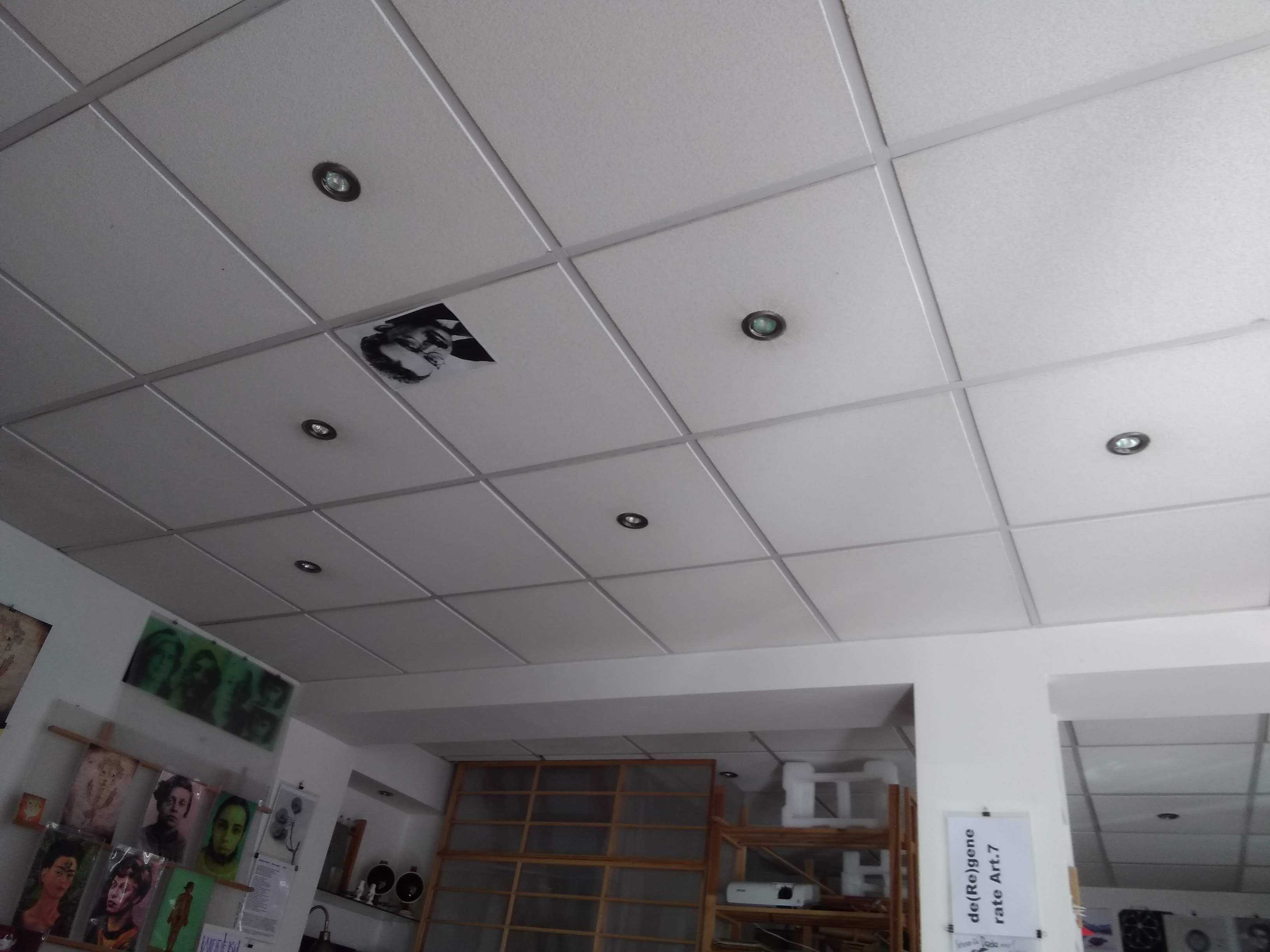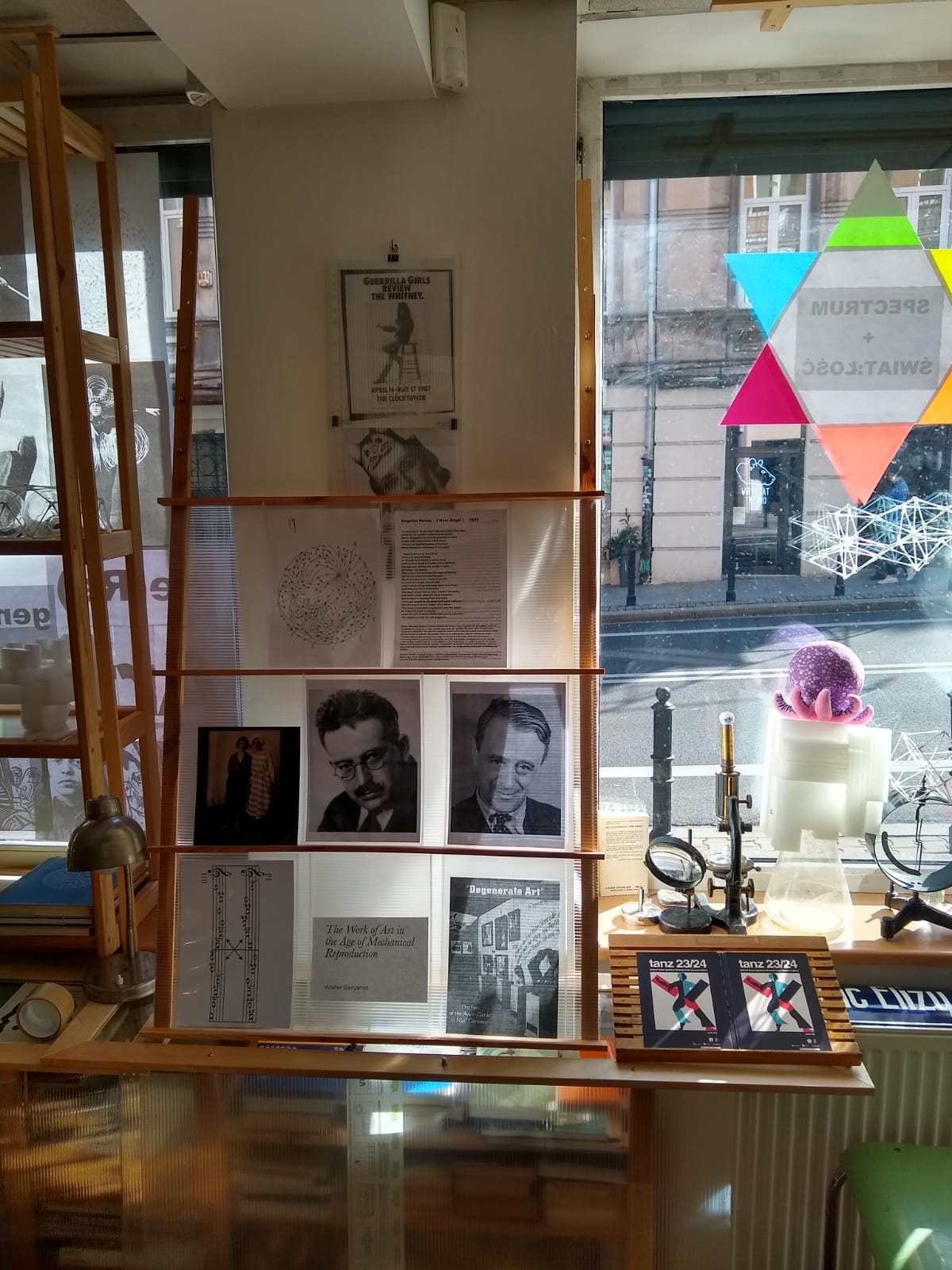 A trailer for the event is available here:


Tanz 23/24 was reviewed by Phoebe Blatton in Art Monthly from October 2020. It is available here to read in full.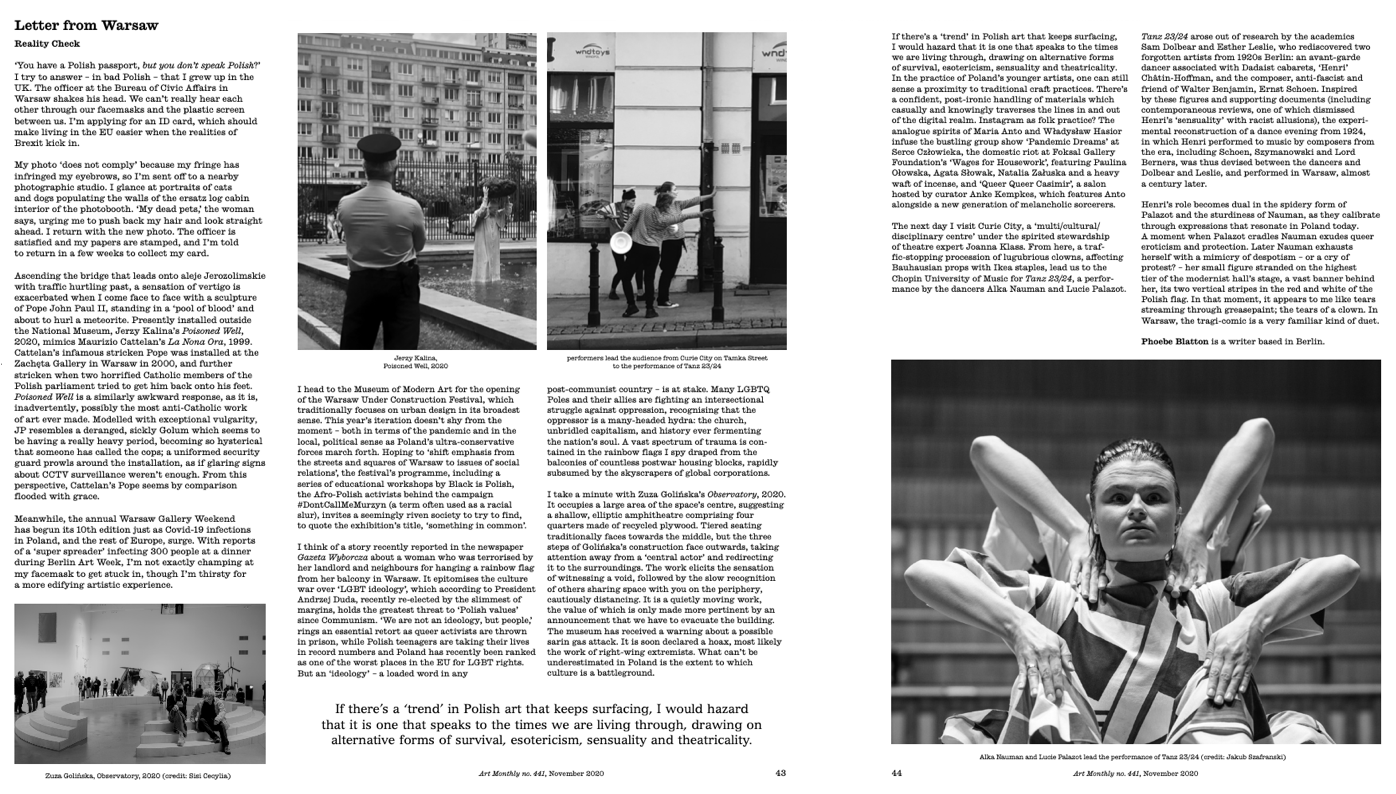 These projects were initiated with the kind support of the Lipman-Miliband Trust. Tanz 23/24 was also generously supported by the Foundation of Polish German Cooperation/Fundacja Współpracy Polsko Niemieckiej. Thank you also to Sabine Schiller-Lerg.
Credits for the performance images below: Jakub Szafranski.